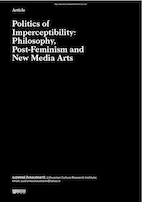 Politics of Imperceptibility: Philosophy, Post-Feminism and New Media Arts
Abstract
the essay discusses Deleuze and Guattari's notion of becoming-imperceptible and raises the question to what extent it can be interpreted in terms of feminist politics and seen as a specific strategy for new media arts. Although the notion of becoming-imperceptible was condemned by second wave feminists, recent post-feminists representing the third wave argue not for politics of visibility but for politics of invisibility. Examining the practices of Lithuanian feminist media artists, the essay argues that becoming-imperceptible in new media arts means not an escape from visibility or a drive toward annihilation but a new conceptual strategy: becoming-imperceptible creates the potential for social and political change. this new conceptual strategy can be related to the new quality of the image: in this regard there is a close affinity between Deleuze and Guattari's notion of becoming-imperceptible and the notion of the crystalline image which appears in Deleuze's film theory: both notions engender duration, temporality and qualitative change. therefore the essay claims that the crystalline image does not represent the world but recreates this world through multiple, changing and virtual images.
Keywords
imperceptibility; post-feminism; new media arts; Deleuze; Lithuania
Refbacks
There are currently no refbacks.