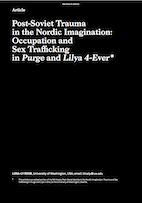 Post-Soviet Trauma in the Nordic Imagination: Occupation and Sex Trafficking in Purge and Lilya 4-Ever
Abstract
The traumas of the twentieth century affected the development of trauma narrative in literature and cinema. Much of the trauma theory in different disciplines developed largely from the Holocaust literature as well as from gender-based violence. The criticism of many examples in contemporary trauma theory has been that they are applicable only to Western countries and do not take into account the difficult transitions between the non-Western and Western world. The countries that had gone through a brutal occupation of the Soviet Union also experienced the trauma of transformation, as whole societies turned into post-Soviet nations next to the developed Nordic/Western states. This article will examine the representations of trauma in Sofi Oksanen's fictional narrative Purge (Puhdistus, 2008) and Lukas Moodysson's cinematic narrative Lilya 4-Ever (Lilja 4-ever, Sweden/Denmark, 2002) and offer an analysis of the trauma of transitions in the borderland between the post-Soviet and Nordic countries. Both Oksanen and Moodysson, as observers from the Nordic countries (Finland and Sweden respectively), have chosen to depict the post-Soviet trauma through a female body which is trapped in forced prostitution in Western Europe or Scandinavia and her emotions and reactions to her trauma. This article will argue that both authors contribute to the post-Cold War discourse that discusses the cultural borders between "East" and "West", presenting a trauma of globalisation, drawing attention to unspoken subjects, but also contributing to the existing views of post-Soviet spaces as ruined and traumatising.
Keywords
post-soviet film; Estonia; trauma; Purge; Lilya 4-Ever; Nordic film
References
Ahmed, Sara 2004. The Cultural Politics of Emotion. New York: Taylor & Francis Group.
Alexander, Jeffrey C. 2004. 'Toward a Theory of Cultural Trauma'. – Jeffrey C. Alexander (ed.), Cultural Trauma and Collective Identity. Berkeley: University of California Press, 1–30.
Benedek, Márton 2011. 'I Wanted to Tear Those Stereotypes Apart. An Interview with Sofi Oksanen'. – Hungarian Literature Online, 7 May. http://www.hlo.hu/news/i_wanted_to_tear_those_stereotypes_apart (20 April 2014).
Borenstein, Eliot 2006. 'Selling Russia: Prostitution, Masculinity, and Metaphors of Nationalism after Perestroika'. – Helena Goscilo, Andrea Lanoux (eds.), Gender and National Identity in Twentieth-Century Russian Culture. DeKalb: Northern lllinois University Press, 174–195.
Bourdieu, Pierre [1998] 2001. Masculine Domination. Trans. Richard Nice. Stanford: Stanford University Press.
Caruth, Cathy 1996. Unclaimed Experience: Trauma, Narrative, and History. Baltimore: The John Hopkins University Press.
Coxe, Brinton Tench 2010. 'Playground-Graveyard: Violence, the Body and Borderline Urban Space in Lilya 4-Ever'. – Ulbandus: The Slavic Review of Columbia University, 13, 29–40.
Craps, Stef 2014. 'Beyond Eurocentrism: Trauma Theory in the Global Age'. – Gert Buelens, Sam Durrant, Robert Eaglestone (eds.), The Future of Trauma Theory. London, New York: Routledge, 45–62.
Damian, Diana 2012. 'Sofi Oksanen'. – Exeunt Magazine, 27 February. http://exeuntmagazine.com/features/sofi-oksanen/ (12 December 2013).
Farley, Melissa 2006. 'Prostitution Is Sexual Violence'. – Louise Gerdes (ed.), Prostitution and Sex Trafficking. Detroit: Greenhaven Press, 101–109.
Herman, Judith 1997. Trauma and Recovery. New York: Basic Books.
Kaplinski, Jaan 2007. 'From Harem to Brothel'. – Eurozine, 30 June. http://www.eurozine.com/articles/2007-06-30-kaplinski-en.html (20 March, 2014).
Kaplinski, Jaan 2010. 'Sofi Oksanen and the Stalin Award'. – Ummamuudu, 24 March. http://jaankaplinski.blogspot.com/2010/08/sofi-oksanen-and-stalin-award.html (20 March 2014).
Kuldkepp, Mart 2013. 'The Scandinavian Connection in Early Estonian Nationalism'. – Journal of Baltic Studies, 44, 3, 313–338.
Lappalainen, Päivi 2011. 'Häpeä, ruumis ja väkivalta Sofi Oksasen Puhdistuksessa'. – Siru Kainulainen, Viola Parente-Čapková (eds.), Häpeä vähän! Kriittisiä tutkimuksia häpeästä. Turku: Uniprint, 259–281.
Laub, Dori; Felman, Shoshana 1991. Testimony: Crises in Witnessing in Literature, Psychoanalysis, and History. New York: Routledge.
Lehti, Marko 2003. 'Possessing a Baltic Europe: Retold National Narratives in the European North'. – Marko Lehti, David J. Smith (eds.), Post-Cold War Identity Politics. London, Portland: Frank Cass, 11–49.
Llewellyn Barstow, Anne 2000. War's Dirty Secret. Cleveland: Pilgrim Press.
Luckhurst, Roger 2008. The Trauma Question. New York: Routledge.
Made, Vahur 2003. 'Estonia and Europe: A Common Identity or an Identity Crisis?' – Marko Lehti, David J. Smith (eds.), Post-Cold War Identity Politics. London, Portland: Frank Cass, 183–198.
Nestingen, Andrew 2008. Crime and Fantasy in Scandinavia: Fiction, Film and Social Change. Seattle, London: University of Washington Press; University of Copenhagen: Museum Tusculanum Press.
Nõmmela, Ruta 2002. 'Lilja 4-Ever hoiatab rootslasi'. – Eesti Päevaleht, 25 November.
http://epl.delfi.ee/news/kultuur/lilja-4-Ever-hoiatab-rootslasi.d?id=50940168 (20 April 2014).
O'Hagan, Sean 2003. 'Moody by Name...'. – The Guardian, 12 April. http://www.theguardian.com/film/2003/apr/13/features.review (12 December 2013).
Oksanen, Sofi [2008] 2010. Purge. Trans. Lola Rodgers. New York: Black Cat.
Richters, Annemiek 1998. 'Sexual Violence in Wartime. Psycho-Sociocultural Wounds and Healing Processes: The Example of the Former Yugoslavia'. – Patrick J. Bracken, Celia Patty (eds.), Rethinking the Trauma of War. London: Free Association Books, 112–127.
Suchland, Jennifer 2013. 'Double Framing in Lilya 4-Ever: Sex Trafficking and Postsocialist Abjection'. – European Journal of Cultural Studies, 16, 3, 362–376.
Svenska Filminstitutet 2004. 'Vad har mitt liv med Lilja att göra?' http://www.sfi.se/sv/filmiskolan/Publikationer1/Vad-har-mitt-liv-med-Lilja-att-gora/ (28 March 2014).
Sztompka, Piotr 2004. 'The Trauma of Social Change: A Case of Postcommunist Societies'. – Jeffrey C. Alexander (ed.), Cultural Trauma and Collective Identity. Berkeley: University of California Press, 155–195.
Tali, Piret 2010. 'Kogu tõde Sofi O-st'. – Eesti Päevaleht, 4 October. http://epl.delfi.ee/news/arvamus/kogu-tode-sofi-o-st.d?id=51283935 (20 March 2014).
Zabrowska, Magdalena J.; Forrester, Sibelan; Gapova, Elena 2004. 'Introduction: Mapping Postsocialist Cultural Studies'. – Sibelan Forrester, Magdalena J. Zabrowska, Elena Gapova (eds.), Over the Wall/After the Fall: Post-Communist Cultures through an East-West Gaze. Bloomington: Indiana University Press, 1–35.
Refbacks
There are currently no refbacks.