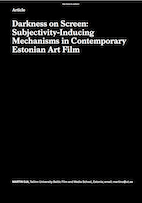 Darkness on Screen: Subjectivity-Inducing Mechanisms in Contemporary Estonian Art Film
Abstract
The main purpose of the article is to bring more clarity to the concept of art film, shedding light on the mechanisms of subjective reception and evaluating the presence of subjectivity-inducing segments as the grounds for defining art film. The second aim is to take a fresh look at the little-discussed Estonian art cinema, drawing on a framework of cognitive film studies in order to analyse its borders and characteristics. I will evaluate the use of darkness as a device for creating meaning, both independently of and combined with other visual or auditory devices. The dark screen, although not always a major factor in the creation of subjectivity, accompanies the core problem both directly and metaphorically: what happens to the viewer when external information is absent? I will look at the subjectivity-inducing devices in the films of two Estonian directors, Sulev Keedus and Veiko Õunpuu. For the theoretical background, I rely mostly on Torben Grodal's idea about the subjective mode as a main characteristic of art film, and the disruption of character simulation as the basis for the film viewer's subjectivity.
Keywords
art film; reception; Estonia film; darkness; meaning making; subjectivty induction; Õunpuu; Keedus
References
Anderson, Joseph 1996. Reality of Illusion. Carbondale: South Illinois University Press.
Andrews, David; Andrews, Christine 2012. 'Film Studies and the Biocultural Turn'. – Philosophy and Literature, 36, 1, 58–78.
Bordwell, David [1979] 1999. 'The Art Cinema as a Mode of Film Practice'. – Leo Braudy, Marshall Cohen (eds.), Film Theory and Criticism: Introductory Readings. 5th edition. New York: Oxford University Press, 716–724.
Bordwell, David 1986. Narration in Fiction Film. Madison: University of Wisconsin Press.
Bordwell, David 2002. 'Intensified Continuity: Visual Style in Contemporary American Film'. – Film Quarterly, 55, 3, 16–28.
Bordwell, David 2008. Poetics of Cinema. New York: Routledge.
Bordwell, David 2012. 'The Viewer's Share: Models of Mind in Explaining Film'. http://www.davidbordwell.net/essays/viewersshare.php (12 August 2014).
Buckland, Warren 2000. Cognitive Semiotics of Film. Cambridge: Cambridge University Press.
Carroll, Noël [1985] 1996. 'The Power of Movies'. – Noël Carroll, Theorizing the Moving Image. Cambridge: Cambridge University Press, 78–93.
Elsaesser, Thomas; Hagener, Malte 2010. Film Theory: An Introduction Through the Senses. New York, London: Routledge.
Galt, Rosalind; Schoonover, Karl 2010. 'Introduction: The Impurity of Art Cinema'. – Rosalind Galt, Karl Schoonover (eds.), Global Art Cinema: New Theories and Histories. New York: Oxford University Press, 3–27.
Gibson, James J. 1986. The Ecological Approach to Visual Perception. New York: Psychology Press.
Grodal, Torben 2009. Embodied Visions: Evolution, Emotion, Culture and Film. New York: Oxford University Press.
Jauss, Hans Robert; Benzinger, Elizabeth 1970. 'Literary History as a Challenge to Literary Theory'. – New Literary History, 2, 1, 7–37.
Kahneman, Daniel 2011. Thinking, Fast and Slow. London: Penguin Books.
Kuhn, Annette; Westwell, Guy 2012. A Dictionary of Film Studies. New York: Oxford University Press.
Lakoff, George; Johnson, Mark 1999. Philosophy in the Flesh: The Embodied Mind and Its Challenge to Western Thought. New York: Basic Books.
Lotman, Juri 2004. Filmisemiootika. Tallinn: Varrak.
Odin, Roger 1995. 'For a Semio-Pragmatics of Film'. – Warren Buckland (ed.), The Film Spectator: From Sign to Mind. Amsterdam: Amsterdam University Press, 227‒235.
Petrie, Graham [1973] 2008. 'Alternatives to Auteurs'. – Barry Keith Grant (ed.), Auteurs and Authorship. Malden: Blackwell Publishing, 110‒118.
Pierson, Ryan 2010. 'Embodied Visions: Evolution, Emotion, Culture, and Film by Torben Grodal'. – Critical Quarterly, 52, 2, 93–99.
Sellors, Paul 2007. 'Collective Authorship in Film'. – The Journal of Aesthetics and Art Criticism, 65, 3, 263–271.
Sinnenbrink, Robert 2012. New Philosophies of Film: Thinking Images. London, New York: Continuum.
Sperber, Dan; Wilson, Deirdre 1986. Relevance: Communication and Cognition. Oxford: Basil Blackwell.
Stam, Robert 2000. Film Theory: An Introduction. Oxford: Blackwell.
Tomberg, Donald 2009. 'Mu silm ja süda – need on sõjajalal'. – Sirp, 15 October.
Torop, Peeter 1999. 'Harimise kunst'. – Teater. Muusika. Kino, 5, 65–74.
Waugh, Linda R. 1980. 'The Poetic Function in the Theory of Roman Jakobson'. – Poetics Today (Roman Jakobson: Language and Poetry), 2, 1a, 57–82.
Refbacks
There are currently no refbacks.